Cheese Danish
Recipe By : Alan Barasch
Serving Size : 12
Preparation Time : 0:30
Categories : breakfast dessert pastry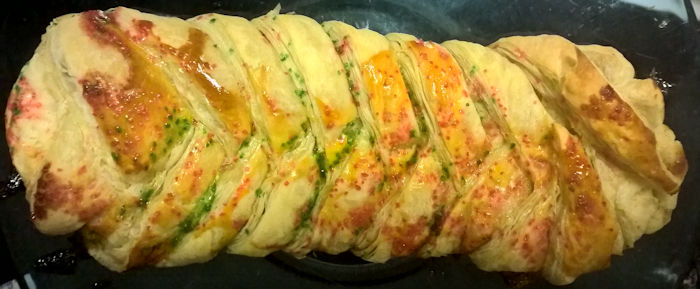 Amount  Measure       Ingredient -- Preparation Method
--------  ------------  --------------------------------
  1             pound   ricotta cheese
  1/3            cups   superfine sugar
  1 1/2      teaspoons  vanilla extract
  1              Tbsp   Flour
  *                     zest of one orange, chopped
  1           squeezed  orange from above
  3                     large egg
  1/2             cup   shredded mozarrella cheese
  6        tablespoons  butter, unsalted
  1           teaspoon  Cinnamon -- ground
  1                     puff pastry sheets -- defrosted
     1/2           cup  water
  1                     egg

Combine cheese, sugar, vanilla, flour, orange zest and juice, and cinnamon in mixer or food processor. Mix just until combined thoroughly. It will be thick.
Set aside the wet mixture in the refrigerator at least 30 minutes.
Mix water and 1 egg to make an egg wash. Brush each pastry sheet.
Take one pastry sheet and spread cheese mixture in an even amount to within 1 inch of edge.
Fold 1/3 over like a letter. Fold the other side over. Some cheese may squirt out the ends.
Brush with egg wash and set aside in a warm place for 1 hour.
Repeat 4 through 6 until all sheets are used.
Bake on the middle rack at 400 for 16-20 minutes and golden brown.
While still hot, dust with powdered sugar. The above picture was dusted with red and green sugar for a Holiday party.

Description:

"A wonderful danish with a sweet cheese"

Copyright:

"2008"

Yield:

"1 slice"

Start to Finish Time:

"1:30"

T(Baking):

"0:20"
- - - - - - - - - - - - - - - - - - -

Per Serving (excluding unknown items): 437 Calories; 25g Fat (50.6% calories from fat); 17g Protein; 38g Carbohydrate; 1g Dietary Fiber; 64mg Cholesterol; 376mg Sodium. Exchanges: 1 1/2 Grain(Starch); 2 Lean Meat; 4 Fat; 1 Other Carbohydrates.

Serving Ideas : Other prep ideas. Place cheese down middle. Cut strips and braid over the roll.

Nutr. Assoc. : 0 0 0 0 0 0 0 0 0 0 0

Don't you just love silpat sheets? Just slide the danish right off.

Updated: