Raspberry Tiramisu
Recipe By :Alan Barasch
Serving Size : 12 Preparation Time :0:15
Categories : Dessert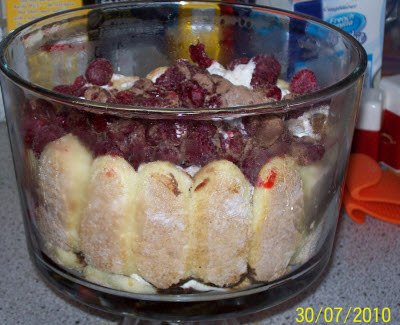 | Amount | Measure | Ingredient -- Preparation Method |
| --- | --- | --- |
| 1 | pint | Heavy cream |
| 1 | pound | raspberries, frozen -- defrosted |
| 2 | packages | Lady Fingers |
| 1 | cup | coffee, brewed -- strong |
| 1 | pound | Mascarpone Cheese - softened |
| 1 | cup | preserves -- room temperature |
| 1 | tablespoon | orange liqueur |
| ½ | cup | powdered sugar |
| 2 | packages | cocoa mix |
| 1 | teaspoon | cinnamon -- ground |
Brew the coffee very strong; like expresso.
Add the cream to your mixing bowl and beat until stiff. Add the mascarpone cheese and whip to stiff peaks.
Line a pretty bowl or trifle dish with the ladyfingers separated into parts with the cake side in and the crust side showing through the bowl.
When the coffee has cooled, carefully brush the coffee mixture on the ladyfingers in the bottom of the bowl. They should be saturated but not soggy.
Mix the liqueur into the preserves. Brush the ladyfingers with half of the preserves.
Add half of the cream on top of the preserves. Top with about 1 inch layer of raspberries.
Repeat with preserves, cream and raspberries until full or no more left.
Chill well or at least 2 hours. Sift powdered sugar and cocoa mix over the top.
---
More great recipes at http://food.barasch.com.

Per Serving (excluding unknown items): 317 Calories; 15g Fat (42.7% calories from fat); 3g Protein; 44g Carbohydrate; 2g Dietary Fiber; 77mg Cholesterol; 125mg Sodium. Exchanges: 0 Grain(Starch); 1/2 Fruit; 0 Non-Fat Milk; 3 Fat; 1 1/2 Other Carbohydrates.

NOTES : The last time I made it I ran out of filling before I got to the top. I folded over the ladyfingers into a nice design before chilling.

Nutr. Assoc. : 0 0 0 0 0 0 0 0 0 0